Sofas with a particularly careful esthetical look in the projecting time and in the choice of dressing materials and exterior finishing.
Thanks to our constantly attention to fashion which bring us to the final realization of each sofa trying to give it the highest quality standards concerning comfort, elasticity, stability and preservation during the time of such characteristics..
From the beginning we renounced economic
products to address our strengths to have a reduced but extremely specialized handicraft organization, to ensure the careful and faultless realization of every single product of our two line of product, Classical, which come form the reinterpretation and actualization of classical sofas, and Contemporary.
Quality Keoma
Keoma offers its time-honoured experience in craft production as well as constant research and innovation: in short, Quality.
Respect for the environment
Our products are made using natural recyclable materials and are the products of thorough environmentally-friendly design.
Sofas structure
For our sofa structures we use pinewood strips and multi-layered panels of poplar and beech wood. This choice is based on the eco-quality and durability of these materials.
Leather and Fabrics
All fabric sofas are finished with fray-proof hemming. Our leathers come from prime choice hides and our leathers require little maintenance.
BROWSE THE LEONARDO CATALOG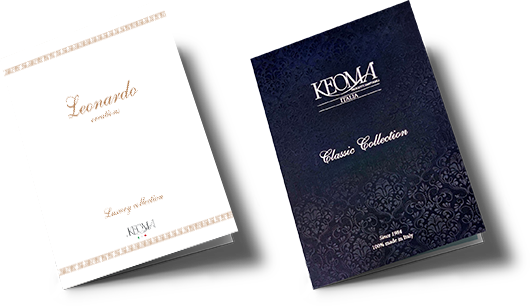 Our Brochure
Download and see all more advertising material (ads, brochures, etc.) and our catalogs